Advanced Nutrients Unprecedented Product Quality.
Advanced Nutrients products are designed to work together which creates a symbiotic system to aid your plants reach their ideal potential. Advanced Nutrients products are engineered nutrition programs, soil treatments, root zone additives, foliar sprays, preventives, inoculants, compost teas, bud boosters, and other highly-effective specialty formulas that help growers create strong plants & protected against pests and diseases that plague growers. The growers can buy and use the Advanced Nutrients products with the assurance that they are getting the best for the precious crops. All Advanced Nutrients products are manufactured using the best ingredients, strict quality controls, and automated safeguards, and are backed by the company's unparalleled 100% performance guarantee.
Nobody else offers a guarantee like we do because nobody else tests, designs, and manufactures specifically for hydroponics gardening needs.
Your crops will grow faster, flower faster, and yield more when you use Advanced Nutrients. You'll always get the most easily-absorbed, properly configured, quality-controlled products when you get Advanced Nutrients.
Unprecedented Product Quality of Advanced Nutrients
Advanced Nutrients expanded its research, development, and marketing after they have discovered that fertilisers sold by other companies failed to maximize the profit potential of high-level hydroponics gardens.
Advanced Nutrients scientists discovered that most fertilisers lacked correct levels, ratios, and the types of quality components most useful for hydroponics plants. After two years of field testing conducted by a team of five Ph.D.s, the company Advanced Nutrients unveiled a startling new line of products specifically engineered for hydroponics, which differs from soil growing in many key ways. These products, sold under the now famous Advanced Nutrients logo, embody a comprehensive approach to hydroponics growing.
They contain proprietary blends of quality micro- and macro-nutrients, amino acids, hormones, expensive chelates, plant growth regulators, vitamins, enzymes, yeast, yeast extracts, organics, carbohydrates, microbes, beneficial bacteria, and beneficial fungi.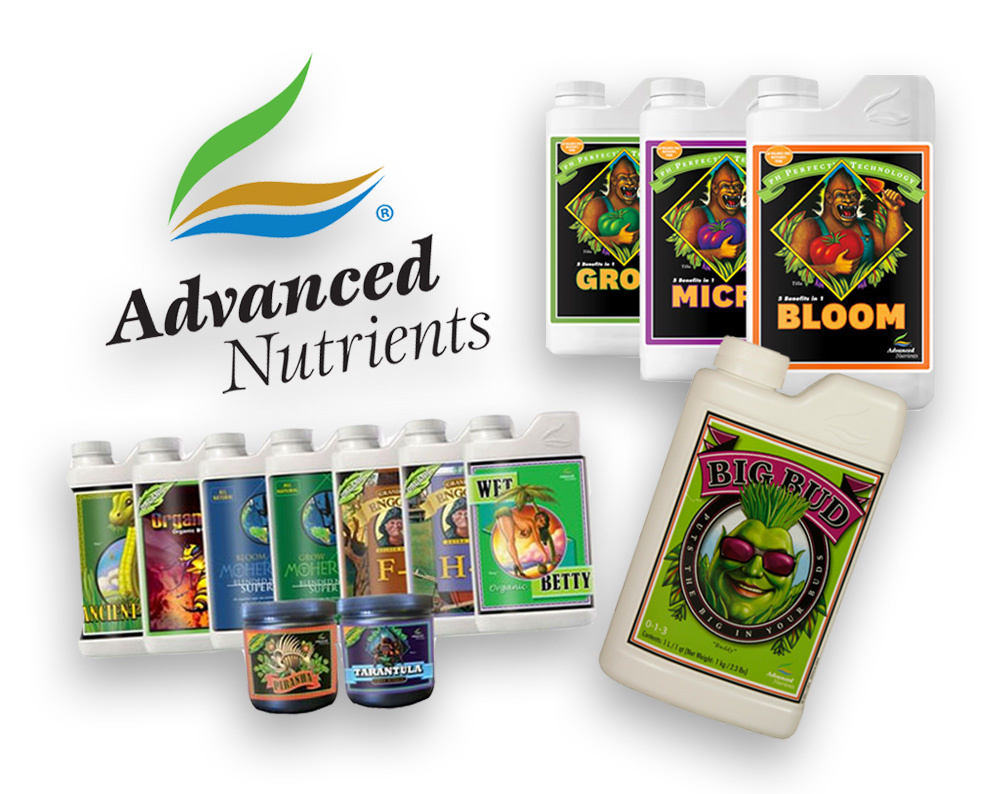 Some products are almost totally organic, while others are synthetic-organic mixes. The company has created dozens of powerful growing formulas, including the Sensi Pro® Two Plus program, which features micro-adjusted week-by-week formulations designed to satisfy your plants' changing needs during flowering and ripening.
The company then released a specialty fertilizer called Monkey Juice that maximizes the potential of coco coir root zone media while fixing problems caused by coco coir and inferior fertilisers.
Advanced Nutrients have also created a premium two-part bloom fertiliser called Connoisseur, which uses proprietary materials to push plants to the highest yields ever seen.
For growers who want the tastiest, best-smelling crops ever, Advanced Nutrients has created Sweet Leaf, which increases growth rate while sugaring crops so that harvests have a delicious bouquet and taste.
One of the renowned person in Growing industry Michael Straumietis, the man that revolutionised hydroponics by becoming the owner of Advanced Nutrients, one of the most popular nutrient brands in the marketplace. Advanced Nutrients products are designed for the crops you grow. They've got a team of top scientists working day and night to make products that will make your grow room produce bigger, tastier, and more plentiful crops.
The plants you grow have special requirements. All thorough & vivid testing, Advanced Nutrients became the first to discover the plant needs. And they've designed products that give your crops exactly what they need when they need it. Advanced Nutrients uses the best source materials and manufacturing processes, which means you get stronger products that work better, cost less, last longer, and produce fantastic results.
Ongoing plant-specific testing proves that Advanced Nutrients products greatly increase vigor, maturation speed, yield, and potency. Our products are engineered nutrition programs, soil treatments, root zone additives, foliar sprays, preventives, inoculants, compost teas, bud boosters, and other highly-effective specialty formulas that help growers create strong plants that are protected against pests and diseases that plague growers.
Advanced Nutrients Products are Superior to All with the So-Called Competition.
In an innovative test conducted in 2003, a grower compared Advanced Nutrients to fertilisers made by five other leading nutrients companies in a side-by-side grow room comparison on identical clones taken from the same mother plant. Advanced Nutrients' plants substantially outperformed other plants. Advanced Nutrients products have been favorably reviewed and featured in the world's leading hydroponics magazines.
Our website Slims Place is constantly being upgraded and improved so that you get the latest information, customer support, free newsletters, and online ordering. We make it easy for you to improve your garden immediately by giving you the best information available anywhere.

Advance Nutrients Feed Charts
All of the Advanced Nutrients have a maximum mixing ratio of 2 ml per 1 Litre of water. But we encourage you to test and adjust these ratios, depending on how your plants react.